A glittering addition to ifc mall at Central marked by the interplay of over 40 materials, the new flagship store of Clé de Peau Beauté is home to its first-ever concept salon dedicated to SYNACTIF. The expansion consolidates the skincare and makeup brand's spirit of innovation, exquisite and meticulous attention to details, offering customers with luxurious service and enjoyable shopping experience in the new retail space.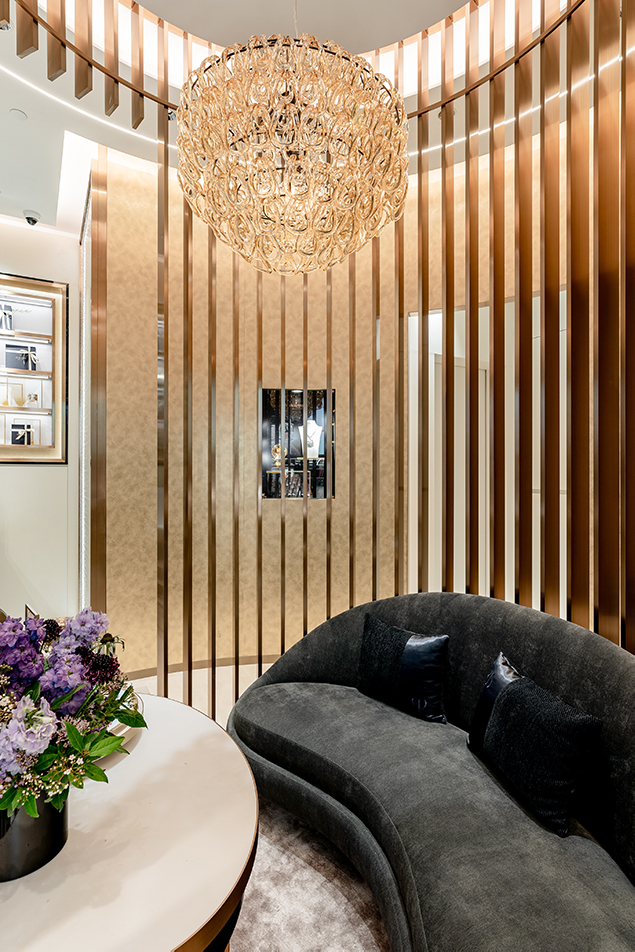 A New Era of Infinite Radiance
While the ultra-luxury golden interior, coupled with white elements, represents the infinite radiance and inner wisdom of women brought out by Clé de Peau Beauté products, the iconic dashes of blue are synonymous with elegance, sophistication, and power. The revamped Radiance Panel resembles the hexagonal structure of skin cells under a microscope -- a manifestation of the brand's cutting-edge science and intuitive sense to skin cells. The golden rays and moving images behind the key-shaped logo call to mind the radiant glow shining through the skin at any time and from every angle.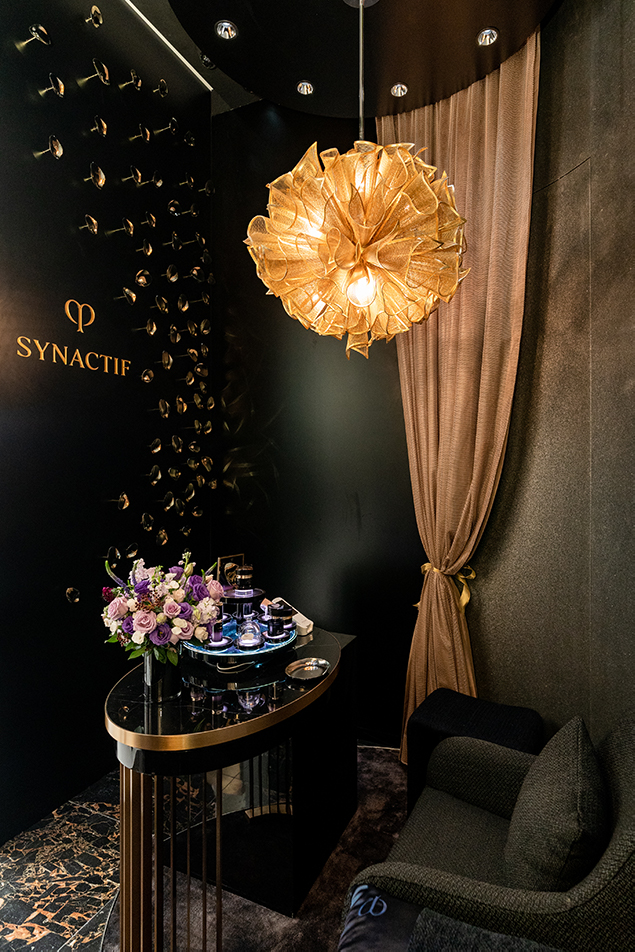 A Continuation of Uncompromising and Innovative Spirit
In its unwavering effort to empower skin health with a full range of exquisitely crafted skincare, Clé de Peau Beauté takes luxury up a notch with the world's exclusive SYNACTIF consultation area in the concept store. Inside this sensual space, customers are embraced in a flood of purplish black the echoes the palette and uncompromising pursuit of excellence of SYNACTIF products. A feature wall reinforces the visual impact of radiance with an installation made with floating rose petals in gold. Amid the cocooning rose fragrance of SYNACTIF and the soothing background music, the area offers the perfect setting for customers to unlock their infinite potential through the HSS purifying and regeneration consultation services services, SYNACTIF facial with the use of special massage technique and beauty equipment in crafting skin perfection.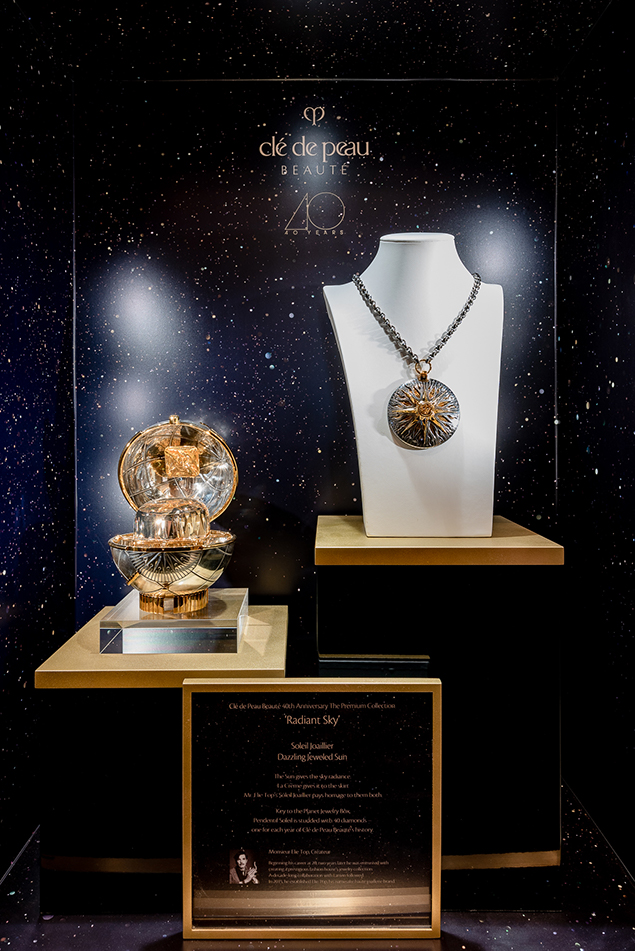 Exquisite and Exclusive, 40th Anniversary The Premium Collection
Designed in collaboration with jewelry designer Mr. Elie Top to celebrate 40 years of radiance in Clé de Peau Beauté's history, the limited-edition 40th Anniversary Premium Collection is inspired by the infinite radiance of the Sun and Moon in a combination of premium materials and exquisite craftsmanship. Soleil Joaillier and Lune Joaillier, two masterpieces preciously crafted in gold and silver and studded with diamonds, will be displayed exclusively in the showcases of ifc flagship store for the occasion of its grand opening.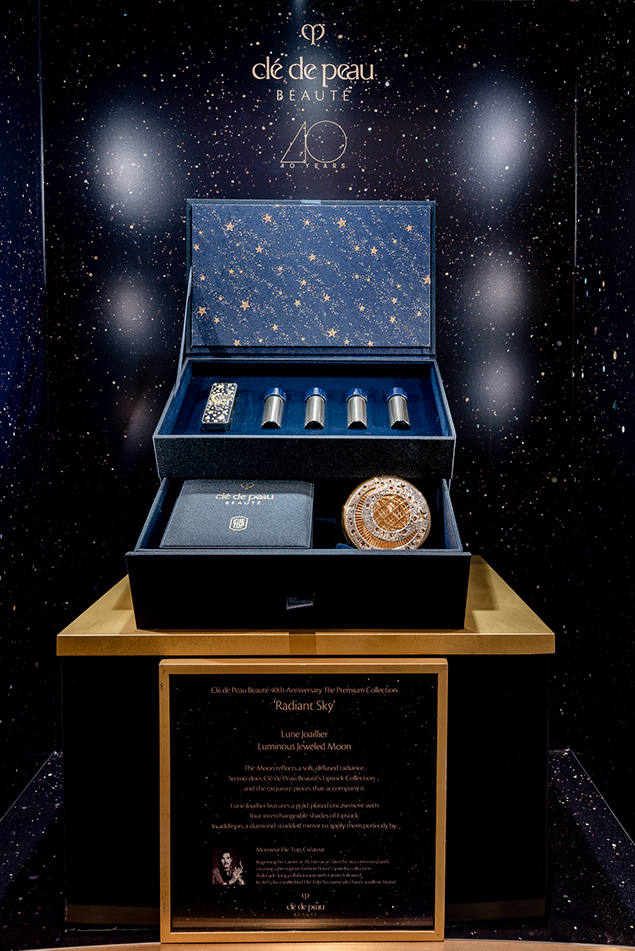 Mr. Elie Top's delicately forged Soleil Joaillier and Lune Joaillier represent the dazzling jeweled Sun and the luminous jeweled Moon respectively. Soleil Joaillier merges 18k pure gold and 925 sterling silver to form Boîte à Bijoux Planète (The Planet Jewelry Box) encapsulating the iconic La Crème. But radiance this precious must be unlocked with a very special key - the Pendentif Soleil (Sun Pendant), which detaches as it unlocks and ready to be worn as an exquisite piece of jewelry. Made from the same gold and silver as The Planet Jewelry Box, Pendentif Soleil is studded with an additional 40 diamonds - one for each year of Clé de Peau Beauté's history.

Lune Joaillier encapsulates Lipstick 24-carat gold coated plating. Le Miroir Lune compact also has a gold-plated silver exterior, with studded diamonds showcasing the stars and different phases of the moon. Also inside The Premium Collection are four interchangeable shades of Lipstick for Lune Joaillier. Each contains Light-Empowering Enhancer technology - inspired by diamonds to reflect and diffuse radiance. Lips look smooth and luminous.

EXQUISITE AND EXCLUSIVE, CLÉ DE PEAU BEAUTÉ
40TH ANNIVERSARY
THE PREMIUM COLLECTION